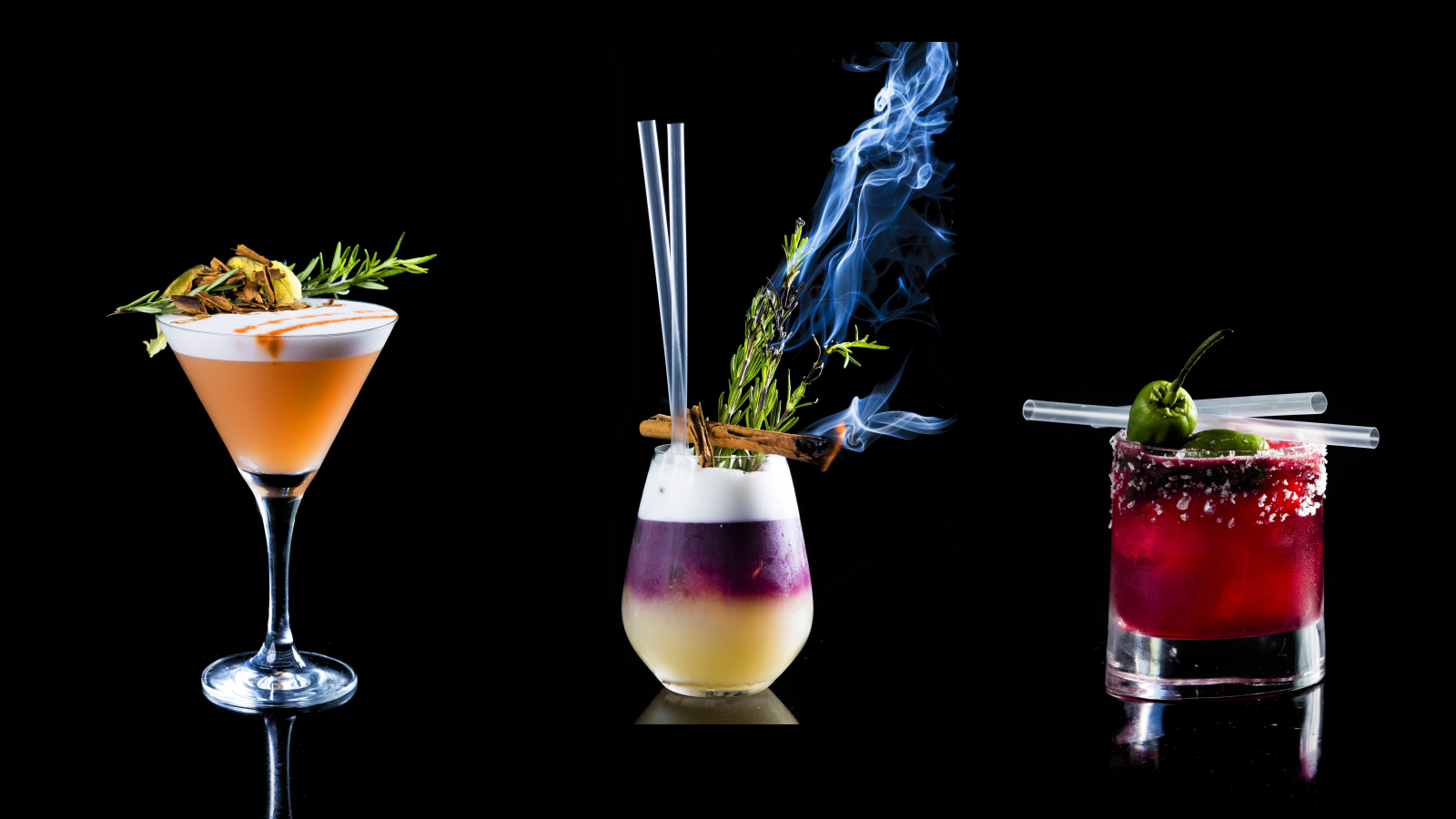 Cocktails | Eclipse Barcelona | W Barcelona
Monday & Wednesday

6PM-2AM

Tuesday & Thursday

6PM-2.30AM

Friday & Saturday

6PM-3AM

Sunday

6PM-2.30AM

*Please note that on 23rd November, Eclipse will be closed to the public.

.
CÒCTELES
Els nostres experts es troben en la constant recerca de fusions innovadores i creatives, partint de la barreja d'ingredients frescos com fruites, herbes, espècies i infusions amb licors premium, amb les quals es creen els nostres còctels insígnia.
ECLIPSE TREASURES
Watermelon Martini - € 12
Vodka Stolichnaya / síndria / xarop de canya de sucre / servit en copa martini
Passion fruit Martini - € 14
Vodka Stolichnaya / fruita de la passió / xarop de canya de sucre / servit en copa martini
Eclipse - € 14
Vodka Snow Leopard / sake / sucre / síndria / servit en got highball amb gel pilé
Dark Temptation - € 14
Rom Brugal / passoa / xampany Veuve Clicquot / pinya / vainilla / llima / menta / maracuyá / servit en got highball amb gel pilé
London Garden - € 13
Ginebra Plymouth / mango picant / guaiaba / vainilla / llima / aranja / clara d'ou / servit en copa martini
Sunset Mojito - € 14
Ginebra Sipsmith / Maracuyá / Licor 43 / Mango picante Anís Albahaca / lima / soda / Servit en got highball
YOU ARE MY HERO
Spicy Blade - € 12
Rom / Xarop de mango picant / Suc de llima / Puré de pinya/ Falernum / Xarop de 7 potències / Ginger Beer Servit en got highball
Champagne Ball - € 14
Tequila Espolon Blanco / Xarop de xocolata blanca Licor de Pimento Dram / Veuvle Clicquot Xampany Suc de llima / Suc d'aranja / Servit en got de gota
WOW Lady - € 13
Ginebra Plymouth / Licor Kuhri de prèssec / Licor 43 Frangelico / Xarop de goma / Clara d'ou / Suc de llima Servit en copa Martini
SING LOUDER
Á midi aux Champs Elysées - € 14
Ginebra Sipsmith / Lillet / Suc de llimona / Mel Té de gessamí / Clara d'ou / Servit on the rocks
50's Sex Symbol - € 15
Vodka Belvedere / Passoa / Xarop de caramel salat Puré de lichy / Aranja / Llimona / Bíter de prèssec Clara d'ou / Servit en got catalina
1962 Success - € 15
Vodka Snow Leopard / Licor de regalèssia Melmelada de figues / Sucre de canya / Angostura Servit en got catalina
Back to Black - € 14
Whiskey Jameson Black Barrel infusionat amb all negre Cynar / Mel / Bitter Wood / Servit en got de gota
FINAL ROUND
Keep Breathing - € 13
Tequila Espolon blanco / Licor de flor de saüc / Xarop de violeta / Suc de llima / Fonoll / Gingebre / Essència d'eucaliptus / Servit on the rocks
My Tai Son - € 14
Whiskey Jameson Black Barrel / Cointreau / Puré de maracuyà / Suc de taronja / Xarop d'Orgeat / Sucre Servit en got catalina
El Santo - € 13
Capucana Cachaça / Campari / Licor de romaní Benedictine / Servit on the rocks
MASTERMINDS
One Cheesy Star - € 13
Capucana Cachaça infusionada amb parmesà Licor de flor de saüc / Xarop d'àgave / Vi negre Conde de Valdemar / Albahaca / Raïm / Servit en got de gota
Electric Bite - € 15
Vodka Belvedere / Brandy d'albercoc / Xarop de nou de macadàmia / Suc de llima / Sucre de canya / Clara d'ou Servit on the rocks
TAKE TWENTY SIX
Royale Forest - € 13
Ginebra Sipsmith / Puré de lichy / Xarop de xocolata blanca / Suc de llima / Mores / Farigola / Raïm Cava Juve Camps / Servit en copa de cava
The Magnificent Seven - € 14
Whiskey Jameson Black Barrel / Brandy d'albercoc Suc de llimona / Aperol / Melmelada de figues / Bíter de taronja / Mezcal Doba Ye / Servit on the rocks
Top Secret - € 11
Vodka Stolichnaya / Ancho Reyes / Suc de llima / Suc d'aranja / Melmelada de taronja dolça Servit en got de gota
Last Tango in Barcelona - € 15
Tequila Espolón reposado / Cachaça / Pebre rosa Lemongrass / Aranja / Clara d'ou / Xarop de lemongrass Servit en got de gota
RED CARPET (SENSE ALCOHOL)
Coco Blush - € 8
Suc de taronja / Puré de coco / Nata / Xarop de sucre Melmelada de taronja amarga / Kumquats / Gerds Servit en got de gota
So Voguish - € 8
Suc de Aloe vora / Puré de pinya / Xarop de violeta Soda Bliss
Perfect Shape - € 8
Suc de poma / Puré de Guava / Mel / Fonoll / Suc de llima